What is a Florida historic restaurant?  
There have been many great restaurants in the Sunshine State that are gone forever.
One was the Kapok Tree in Clearwater.  Another was Chalet Suzanne in Lake Wales.  
Some Favorite Florida Historic Restaurants
---
ALABAMA JACK'S, Homestead.  This place on Card Sound Road has been serving Southern fried food since the 1950s or early 1960s.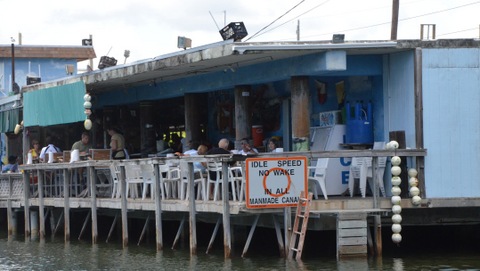 Alabama Jack's – 58000 Card Sound Rd, Key Largo, FL 33030
---
CABBAGE KEY, Pineland.  On an island off Pine Island, this quaint old place has been open since 1944.  Jimmy Buffet says he did not write his cheeseburger song about this restaurant in paradise.
---
CAP'S PLACE,  Lighthouse Point.  Opened in 1928 and has had many famous visitors like Al Capone, movie stars, and politicians.  On the National Register of Historic Places.
Cap's Place, Lighthouse Point
---
CHATTAWAY Restaurant, St. Petersburg.  This old restaurant has been in business for more than 90 years at the same location at the corner of 4th Street South and 22nd Avenue South.  There are a small number of inside seats and a larger number of outside ones.  Good burgers, soups, salads and other sandwiches. 
---
MAI KAI, Fort Lauderdale.  This Polynesian themed restaurant and nightclub opened in 1956 and is as popular now as ever.  Extensive menu with huge drinks and fantastic Polynesian floor shows. 
---
SNACK JACK, Flagler Beach.  This restaurant overlooking the Atlantic Ocean has been operating since 1947.  It was renamed by new owners a couple of years ago who call it High Tides at Snack Jack.  
---
STARFISH COMPANY, Cortez.  This waterfront restaurant started back in the 1920s as a seafood market and has evolved over the years into a great small restaurant for fresh seafood – usually fried.  The seating is outside. 
---
THE YEARLING, Cross Creek.  This restaurant is near the home of writer Marjorie Kinnan Rawlings.  It serves many Florida cracker dishes mentioned in her writings.  It opened its doors in 1952.
Information provided from https://www.florida-backroads-travel.com/florida-historic-restaurants.html